Logo of the organization
The logo of the organization is as shown below and is permitted to be displayed at places related to the organization's activities.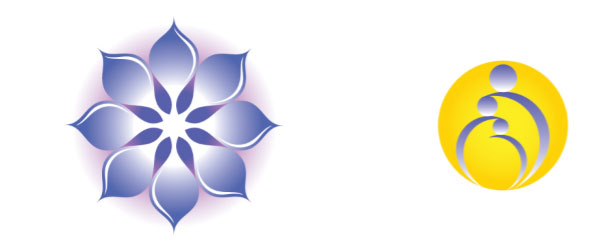 Explanation for the logo
VISÃKHà is in Pali language and "VI" means "unique and plentiful". "SÃKHÔ means "branches in a mesh or web". Thus VISÃKHà means "many children resembling a unique mesh or web of branches".
The banyan leaf in the logo denotes the full moon day of the month of Kason which is the zodiac symbol of VISÃKHÃ.
The 8 levels of the banyan leaf is the symbol representing the 8 noble truths and the victory over "eight evils" by the Lord Buddha.
The colour of banyan leaf is violet which is the colour of the flower of the water hyacinth, known as "Be dar" that always floats on water, resolutely withstanding all forms of turbulence or difficulties.
The symbol of three human figurs at the centre of the logo represents helping each other in partnership and the colour yellow denotes the colour of the Buddhist religion.